Interview With Soldier Danny Non-Fiction Jamaican Autobiography
NTERVIEW WITH SOLDIER DANNY NON-FICTION JAMAICAN AUTOBIOGRAPHY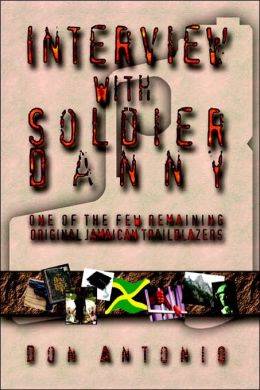 This is real deal by a real original trailblazer who put Jamaica on the map in several aspects.This book is about philosophy, family, culture, humor, history, humanity, war, gangsters, pimps, robbery, murder, music, loss, icons, strength, pressure, perseverance, survival, prison life, loyalty, deceit, betrayal, smuggling, jealousy, nationalism, education, spirituality, redemption.
Journey through the life of a Jamaican Icon from Alpha Junior School, St. Georges College, Kingston Technical HS, Viet Nam, Prisons to redemptiom.
Most Helpful Customer Reviews
A great read from start to finish.
By Dwight Hermit on May 16, 2006  
Format: Paperback
"Interview With Soldier Danny" is an eye-opening look at the life of one of the original "Yardie" that set the foundation for Jamaican Rude Bwoys here in America. Its a compelling story which shows the transformation of "Soldier Danny" from a bwoy in the ghettos of Kingston to the streets of Brooklyn, Bronx and Manhattan. The book shows what happens when potential is wasted and hanging with the wrong crowd influences your action much to your detriment. It also tells of redemption and making that "Uth Turn" in your life.

This book is an absolute joy to read and you will find yourself turning the pages with such eagerness to see what happens next. It will make you laugh, cry and reflect on your own life. "Interview With Soldier Danny" is inspirational, the Philosophy that permeates the pages will leave you in awe of "Soldier Danny's" intelligence and mental resolve.
By Maria Wedderburn on May 16, 2006
Format: Paperback
Indeed reading this book is like watching a movie, however, this is real life not fiction. Interview with Soldier Danny should make the youths of today think twice before they get involved in gangs, drugs, murder and going to prison. This book is an education not just to youths but to all who have tried and failed. You can get up again! No matter how far you have fallen, Soldier Danny shows that one can persevere even after 20 years of hard labor in prison. This book tells you how you can start life over. It is unfortunate that Soldier Danny had to endure such hardship. Yet during his struggle the Lord has never left him. We are talking about the original "Don" who got shot in his head twice and lived. A man who decided that murder and gangs is for losers. A man who looked to God for guidance and made it through. I recommend this book to all brothers and sisters throughout the world, ESPECIALLY JAMAICANS. This is the most provocative, exciting, riveting, life changing book I have read this year. This is THE BOOK OF THE YEAR!
A Page Turner For Real!!!!!
By  Billy Ranks on May 16, 2006
Format: Paperback
Reading this book is like watching a movie. It clears up a lot of questions I had concerning Jamaicans in the diasppora. Very riveting, funny, serious and most of all authentic. Never read a story of this magnitude form one who lived it and survived it.

Big Up!!!
The Professor
By  The Doc on May 18, 2006
Format: Paperback
This book captures Delroy's leadership skills, even as a youth, and shows clearly what happens when untrained potential is blindly ignored. The principles exhibited as an outlaw come across strong and balanced, and to see them come full circle today should not be a surprise to the reader. I believe that if this book is read critically by the younger population, it would serve as a blueprint for what moves not to make in life. The writer does an excellent job of describing the influence and or power of running the streets.

I like how he captures the events that were occurring in the eras described and putting things in context because it helps the reader to get an understanding of what was going on.

Delroy's tendency to be loyal and his love for his people is undoubtedly traced to his upbringing and influences of the Rastas, Mr. Jones, and the gangsters who were able to exhibit balance. Loyalty, Family and consciousness are the theme throughout the book.

Some of the dramas had me laughing even hours after I had read the chapters and was driving to the campus. Some dramas caused me to reflect on a deeper level and realize how not too far apart we are on the perception of certain things.

In using humor and dramas Delroy was able to paint an accurate account of the prison experience and really put things in context. Prisoners and family of prisoners are rightly informed that there is a large amount of emotions, pain and suffering that is directly associated with surviving a prison experience.

The transformation and redemption is seen as a result of Delroy taking advantage of the gift of time.
The Cycle is broken...
By  R Johnson on November 20, 2008
Format: Paperback
The Story Isn't Over... the book was self grandized and embellished to put it lightly... Fiction and fantasy entwined with puffery... Where is the "Soldier" now.... MIA? Where is the "Man" that did the "Uth Turn" with his life?... Where is the gratification for those that enabled him to even see the light from the darkness and have the opportunity to write this book?

The truth is this book was only an introduction to the beginning of the cycle that started with Soldier, yet was broken by the true untold Dons and Donnesses.... The cycle is broken and the truth will be lived and experienced through this generation and those that are yet to come... No need for self publication of what we know to be the living truth that travels deep within... External acknowledgment is unnecessary since we are lifted and sustained by our own self esteem...

The humble man is wise in knowledge while he who speaks without regard to the content or context of his words know nothing. Only a fool believes his own lies, yet only a wise man is strong enough to accept the humility of his own short comings....

Namaste
DOMESTIC SHIPPING - DELIVERY WITHIN ONE WEEK (USUALLY LESS!)
INTERNATIONAL SHIPPING - DELIVERY WITHIN TWO WEEKS (USUALLY LESS!)